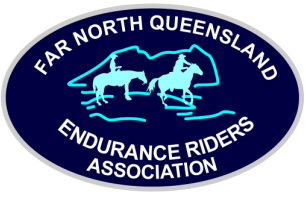 Endurance Riders
The Far North Endurance Riders have been an active club for over 22 years, Each season we organise 10 rides that cover most of the beautiful areas of the Atherton Tablelands. Rides pass through old mining camps long since deserted, where if you stop and rest for awhile can hear the distant sounds of the ghosts of the pioneers echo through the hills.
We travel along nearly forgotten tracks where most of the signs of the past have been reclaimed by the vibrancy of nature mine shafts have been left to the silent sun and only the gentle music of birds & the soft whisper of the wind in the trees may be heard, these days only the local wildlife pass by and of course the occasional endurance rider.
Our group runs rides that cover from the huge 410 Km's down to 160 Km's, 120 Km's, 80 Km's, 40 Km's and the Introductory rides of 20 Km's Some rides are run during the night but most of them start at 6.00 am in the morning and riders must cover the set track and return to base camp for a veterinary check where horses are tested for soundness, heart rates respiratory & all the horses metabolic's are tested. so a rider knows that his/her horse is fit to continue.
New riders are welcome and there are many members on our committee that are there to help and guide you into the wonderful and fulfilling sport of horse endurance where 'To Complete is to Win.' Our group is affiliated with the Queensland Endurance Riders, The Australian Endurance Riders and our local Far North Zone. Anyone interested in coming along to a ride to have a look is most welcome. Just turn up on the day and join in the fun.